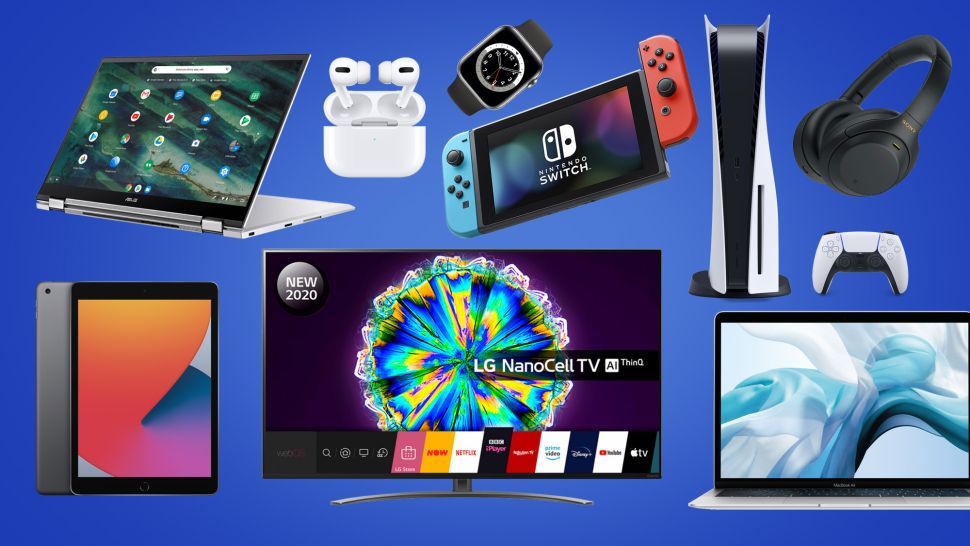 The January sales continue to offer some exciting discounts across a range of retailers, products, and services this week. That means you're not too late to bag some deals, and we're still seeing some of the lowest prices yet on last year's top tech. 
Whether you're after a new TV, laptop, Nintendo Switch or fitness tracker, you'll find plenty of discounts still up for grabs right now. The virtual shelves are stacked with some excellent savings and we're rounding up all the best January sales right here. 
You'll find our top picks from the deals around the UK, and you'll also find handy links to all the biggest sales from retailers across the country, too. 
January sales: quick links
The best deals in the January sales
Retailer directory
We've compiled all the best January sales in one easily navigable list. Whether you're looking for Amazon, HP, Harrods or more, we've got you covered. You can either browse the sales by scrolling down the page, or jump straight to the retailer you want using the side bar or jump links above.
A
B
C
D
E
F
G
H
I
J
K
L
M
N
O
P
R
S
T
U
V
W
X
Y
Z
What to expect in this year's Boxing Day and January sales
Boxing Day and January sales: TV deals
TVs have been big business in 2020, and the discounts show it. Over Black Friday we saw some excellent prices on the latest models, all offering new apps like Disney+ and plenty of smart home features and colour improvements. Sales prices on these newer releases have been mirroring what we saw with last year's iterations, but we've seen more premium QLED technology available on more budget sets over the course of the last few months as well. 
As well as Samsung, Hisense's QLED displays have been dropping their prices a little faster this year, which means you'll likely find some significant discounts in the upcoming Boxing Day sales. Plus, if you're just after a good old LED 4K display, you'll get better value for your money this year as 2020 models take the place of the older versions you'll find from last year's offers below.  
Boxing Day and January sales: Computing and laptop deals
Laptop deals have slowed a little towards the end of 2020, after the early months of the pandemic wiped cheaper models off the shelves and increasing demand meant that retailers were reluctant to shave too much cash off more budget machines. However, there have still been some excellent offers over the course of the year, and with updated components under the hood you're getting better value for your cash in 2020 as well. 
Last year we saw an i5 machine with 8GB RAM, a 512GB SSD, and 32GB of Intel Optane memory going for just £499. That's a stunning laptop deal and if you spot something similar in 2020's Boxing Day sales we'd jump on it because we've only seen very few sales hitting this level of value over the course of the year. 
Boxing Day and January sales: Headphone and audio deals
We've seen some excellent headphone deals so far this year, and with the Boxing Day and January sales approaching, we may well see some of the best prices returning shortly. 
The industry leading Sony WH-1000XM4 headphones did see a slight price drop over Black Friday this year, but it was the previous generation that really shone in 2020. Last year prices dropped down to £239 in the Boxing Day sales, but we've already seen those costs sit closer to £209 at their cheapest 2020 positions. 
Similarly, the most popular true wireless earbuds currently available have also seen some significant price cuts since Christmas last year. The AirPods Pro buds were only a few months old by the Boxing Day sales all those months ago so didn't see too much cash shaved off. However, we've already seen costs dropping to just £199, and for most of the year as well, so keep your eyes on Amazon and Laptops Direct for more. 
In the worlds of mid-range Beats, Bose, and Sony headphones we've seen prices on the Beats Studio 3 and Bose QuietComfort 35 II far outperforming last year as well. With the Beats dropping down to just £149 in 2020 and more wireless noise cancelling cups getting even cheaper, those searching in the lower end of the budget should have plenty to choose from in 2020. 
Boxing Day and January sales 2020: when will they start?
Excellent question, and while you might assume that the Boxing Day sales will launch on Boxing Day – that is, 26 December – we've seen some retailers start their Boxing Day and January sales as early as the week before Christmas in the past. 
This is a trend we expect to see continuing online this year. We've seen it happening already: after all, in November, lots of UK retailers launched their Black Friday sales early. The likes of Amazon and Currys assured shoppers that prices wouldn't fall again further on the day – but if they did, people would be refunded the difference. 
So while officially, online, most Boxing Day sales will be starting at midnight, 26 December, we expect to see plenty of early Boxing Day deals dropping in the days before. As soon as they start, you'll be able to find the best ones here on this page.
Will the High Street be open for Boxing Day sales?
At this stage, we don't know yet whether shops will be opening their doors for the Boxing Day and January sales. While many stores have opened again since the UK's most recent lockdown ended, there's currently little opening hour information for Boxing Day and 1 January available yet, and of course no one knows for sure how the pandemic will affect things. 
Certainly, we advise shopping online if you can, rather than trawling through the Boxing Day and January sales in person. We expect to all the same deals online as would be in store – and indeed more than ever this year.   
When will the Boxing Day sales end – and the January sales begin?
This will vary from retailer to retailer. While some switch their Boxing Day sales into early January sales from the 27 December, others extend their Boxing Day deals right to the end of the month. Largely, though, you'll find it's the same offers, just packaged under a different name.